Cortina d'Ampezzo and surroundings, Dolomites, Veneto

Your search
:) We liked it!
Accommodations with the largest number of positive reviews in the last 12 months
Please write your review!
Sweet home in Cortina. 19 January 2020
"We like Daniela's apartment very much. It is located just 5 minutes away from the central street of the town, so you can go by walk to the shops, restaurants..." continue
Description
Apartment on the ground floor of a Dolomites Villa, with garden. In summer, the garden features two deck chairs, a small barbecue and a table and a bench for your breakfast outside. Quiet and strategic position at only 300 meters from the center.
offers
08/09 - 13/09/2020

280€ for 3 days
Characteristics
Borca di Cadore - Villanova
Lovely holiday in the Cortina region 04 November 2019
"The apartment is in a quiet village, with beautiful views of the mountains around. It is quickly and easily accessible from the main road to Cortina, about 15..." continue
Description
The house offers several apartments in the peaceful hamlet of Villanova di Borca di Cadore. Each apartment reflects the traditional atmosphere of the Dolomites: the wooden furniture and the great attention to detail create a warm and cozy ambience.
Characteristics
Description
The elegant and cozy apartment, recently renovated and with wooden furnishings it is located on the first floor. The apartment has its own entrance, parking space right under the house and the owner lives in-house.
offers
05/09 - 12/09/2020

from 780€ per week

05/09 - 12/09/2020

800€ per week

06/09 - 13/09/2020

from 640€ per week
Characteristics
Very nice and big apartment 28 April 2020
"We were 9 adults who stayed a week in the apartment during an orienteering competition around Auronzo. Overall a very well equipped apartment with room to eat..." continue
Description
Do you want to relax? Are you longing for sport, nature, a healthy life and well-being? Come to the Natural Park of the Tre Cime di Lavaredo in Auronzo! The house has a private garden, 3 bedrooms and 3 bathrooms, a large kitchen and living room and a large tavern.
Characteristics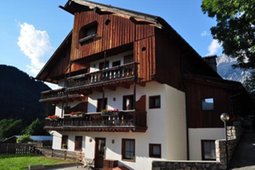 Description
The Apartment Cristina is located in the centre of San Vito di Cadore, in a quiet zone, near to the Dolomiti cycle-path and near to the bus stop to Cortina. It's an attic whit loft, equipped with wooden furnishing, two bedrooms, four beds, two bathrooms, kitchen and living room.
Characteristics
Description
The apartments offer every comfort and the typical, cozy, alpine atmosphere. They are equipped with dishwasher, washing machine, fridge and freezer, microwave oven and induction cooktop. A private parking spot, mountain bikes and the garden are available free of charge.
offers
13/09 - 27/09/2020

from 560€ per week
Characteristics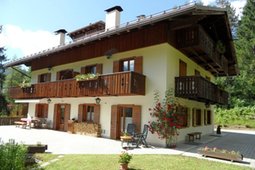 Description
The Residence Ciasa Festinel is run by the family De Vido-Ambrosi and it is located in a very quiet position. Surrounded by greenery it is, however, very close to the village of San Vito di Cadore (1.011m amsl) and Cortina d'Ampezzo.
Characteristics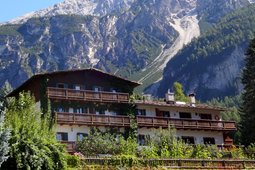 San Vito di Cadore - Belvedere Resinego Alto
Awesome atmoshpere in a typical house 03 October 2014
"We stayed in Villa Belvedere for a couple of nights only, but it was extremely nice. The atmosphere was welcoming, hosts very helpful and friendly, plus there..." continue
Description
Just a ten minutes drive away from Cortina D'Ampezzo, Villa Belvedere allows you to spend an unforgettable holiday in the Dolomites. The cosy apartments with are fully furnished and almost all with a balcony.
Characteristics
Great place to stay 15 May 2014
"We had a very comfortable stay in Villa Gaia, and very helpful and friendly staff. Beautiful views from the rear of the hotel, and a 5-10 min stroll to the..." continue
Description
Villa Gaia is placed in a sunny and peaceful position, with an overview of the Ampezzo valley. Professionally managed, it will let you appreciate social life and sport activities of Cortina d'Ampezzo, along with a pleasant family treatment.
offers
20/09 - 18/10/2020

140€ for 3 days
Characteristics
Description
Located in San Vito di Cadore, a 5-minute walk from the ski lifts Dolomiti Superski and Donariè, Hotel Oasis offers a restaurant and rooms with wooden furniture in mountain style. Most of the room have a balcony with mountain view.
offers
06/09 - 13/09/2020

300€ per week
Characteristics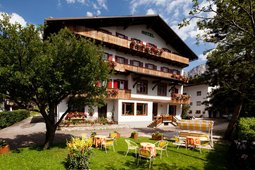 Convenient location in Cortina. 01 May 2015
"I enjoyed my stay at the Hotel Bellaria, as the location was a wonderful plus, in addition to the excellent meals provided by the professional staff in the..." continue
Description
The Bellaria Hotel in Cortina d'Ampezzo lies in a very convenient position, facing the bike way, just 300 mt. from the bus station and the shopping possibilities; the ski-bus stops at the entrance of the private parking.
Characteristics
Please write your review!