hotels and apartments
sport and leisure
localities
information
Guided trips and excursions Cortina and surroundings
Pieve - Via Sopracolle, 35
Orizzonti Montani, owned by the mountain guide and ski instructor Diego Stefani, offers unforgettable adventures in the Dolomites! Looking for an eventful day in the mountains? Choose your favourite activity.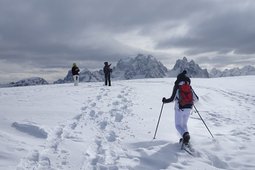 Cortina - Via Crignes, 47
I was born in a wonderful place, Cortina di Ampezzo, where I live and work to this day. I'm a professional mountain guide. I've been getting to know, explore and love my town and the wonderful mountains around it – the Dolomites – since I was a child.