hotels and apartments
sport and leisure
localities
information
Guided trips and excursions Cortina and surroundings
Pieve - Via Sopracolle, 35
Orizzonti Montani, owned by the mountain guide and ski instructor Diego Stefani, offers unforgettable adventures in the Dolomites!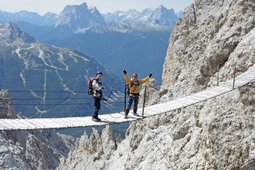 Cortina - Via Crignes, 47
I was born in a wonderful place, Cortina di Ampezzo, where I live and work to this day. I'm a professional mountain guide. I've been getting to know, explore and love my town and the wonderful mountains around it – the Dolomites – since I was a child.