hotels and apartments
sport and leisure
localities
information

Your search
San Vito di Cadore: Hotels, B&B, Residence and holiday apartments
In the heart of the Dolomites, San Vito di Cadore is surrounded by gorgeous mountains, more than 3000 mt high, that belongs to the UNESCO World Heritage. The apartment is located on the last floor of a 3-apartment house.
deals
08/09 - 30/09/2022

from 490€ for 9 nights
Characteristics
The apartments offer every comfort and the typical, cozy, alpine atmosphere. They are equipped with dishwasher, washing machine, fridge and freezer, microwave oven and induction cooktop. A private parking spot, mountain bikes and the garden are available free of charge.
The Senes apartments are located in an oasis of peace and tranquility, surrounded by greenery, but at the same time close to the town center, immersed in a wonderful and relaxing environment. Apartments with two bedrooms with double or twin beds.
deals
07/10 - 25/11/2022

from 55€ per night
Characteristics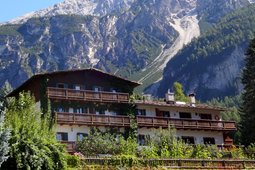 San Vito di Cadore - Belvedere Resinego Alto
Just a ten minutes drive away from Cortina D'Ampezzo, Villa Belvedere allows you to spend an unforgettable holiday in the Dolomites. The cosy apartments with are fully furnished and almost all with a balcony.
Just a few kilometres from Cortina d'Ampezzo is situated Park Hotel Ladinia, a wonderful spa resort in a 5,000 square meter park in the center of San Vito di Cadore, only 300 meters from the ski lifts. After an extensive renovation, it presents itself with a current mix of...
deals
11/09 - 18/09/2022

from 80€ per night

11/09 - 30/09/2022

from 82€ per night

22/12 - 26/12/2022

from 106€ per night

26/12 - 02/01/2023

from 177€ per night

08/01 - 09/02/2023

from 87€ per night

08/01 - 19/03/2023

from 98€ per night

11/03 - 19/03/2023

from 98€ per night
Characteristics
The apartments of the Fiori family are located in San Vito di Cadore, near Cortina d'Ampezzo. They are all new, spacious and equipped with all comforts. The house is located in a strategic position just 50 meters from the cycling and walking path.
Located in San Vito di Cadore, a 5-minute walk from the ski lifts Dolomiti Superski and Donariè, Hotel Oasis offers a restaurant and rooms with wooden furniture in mountain style. Most of the room have a balcony with mountain view.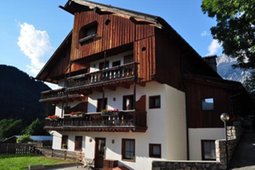 The Apartment Cristina is located in the centre of San Vito di Cadore, in a quiet zone, near to the Dolomiti cycle-path and near to the bus stop to Cortina. It's an attic whit loft, equipped with wooden furnishing, two bedrooms, four beds, two bathrooms, kitchen and living room.
Built in the typical mountain style, the Hotel Il Cardo is located above the village, about 1 km from the centre and 10 km from Cortina. In a wonderful and sunny spot, surrounded by meadows and woods, it is conveniently close to the ski slopes.
San Vito di Cadore is a small village near Cortina D'Ampezzo, situated in the Boite Valley and surrounded by the most beautiful peaks of the Dolomites. Just a few steps from Hotel Alemagna you can find Alpine ski slopes and cross-country ski runs, hiking paths and much more.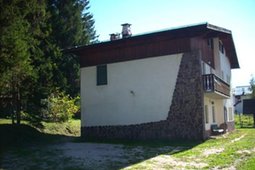 San Vito di Cadore - Belvedere Resinego Alto
The house offers two identical apartments and is situated close to the center and the ski lifts. The building features a big private garden, equipped with swings and barbecue. The apartments have a kitchen with table and two/three chairs, dishwasher, oven and a large fridge.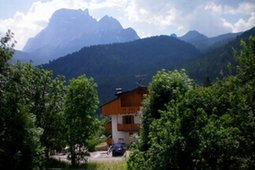 Villa Clelia is an old house completely renovated in 2000, located in the residential area of San Vito, in a very quiet and peaceful spot, at just 5 minutes walk from the town square. The ski lifts can be reached within minutes by car or on foot.