hotels and apartments
sport and leisure
localities
information
9
Apartments Il Bivacco e La Casa sul Lago
Massimo Casagrande
Auronzo di Cadore - Loc. Villapiccola - Via Cella, 7


Telephone: (+39) 34833047... (+39) 3483304755
www.auronzo-dolomiti.com - maxcasagrande@libero.it
Apartments - Offered treatments: SC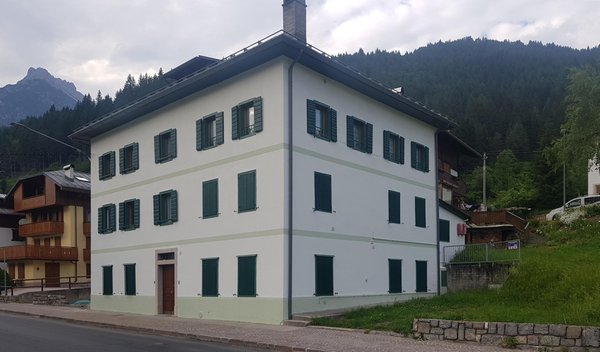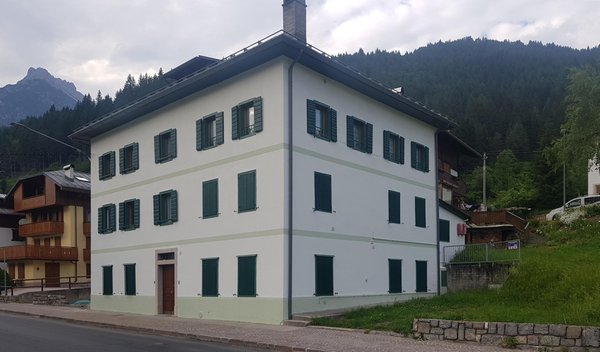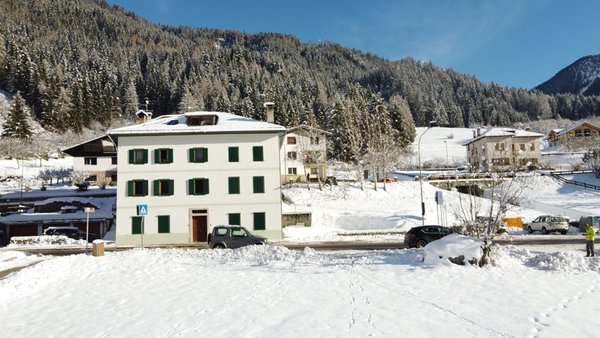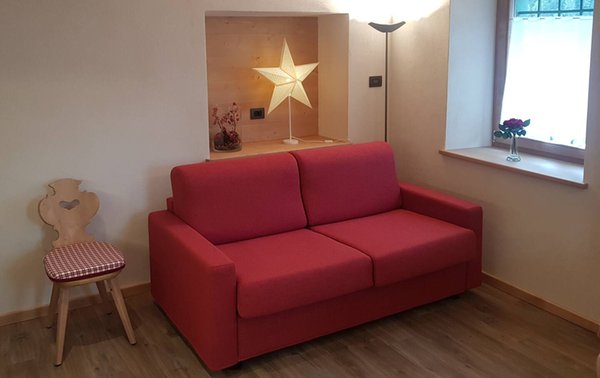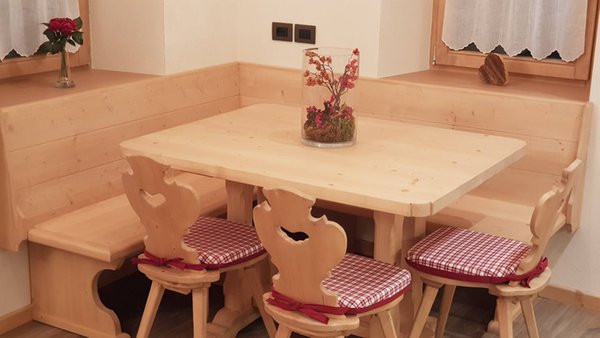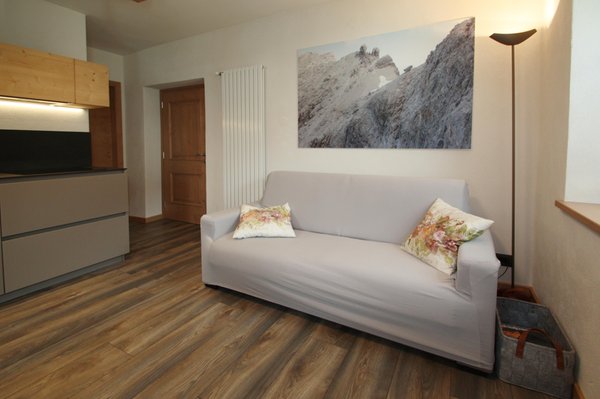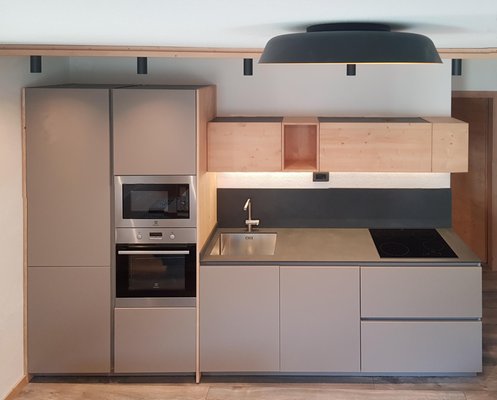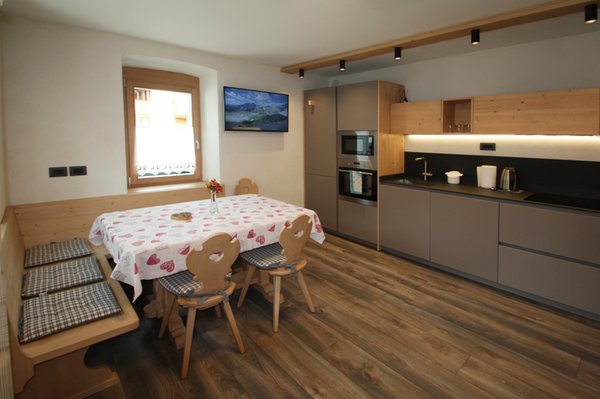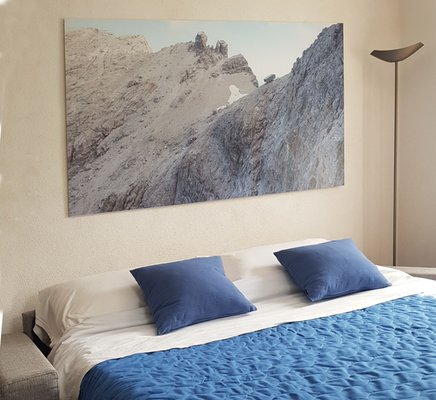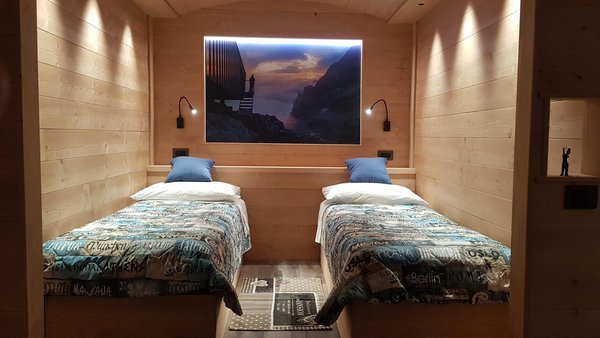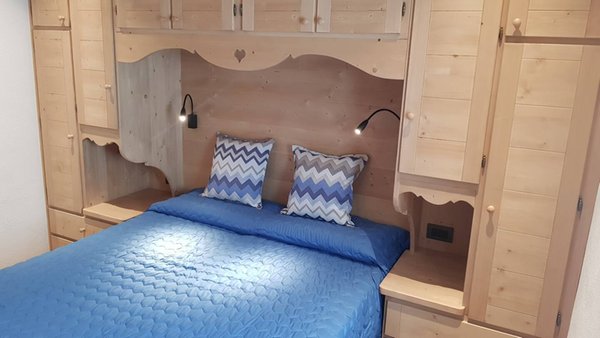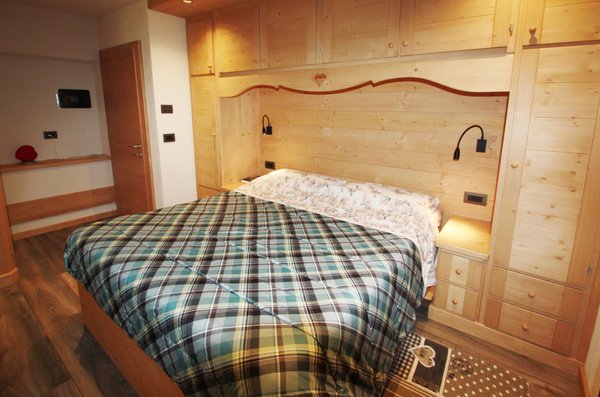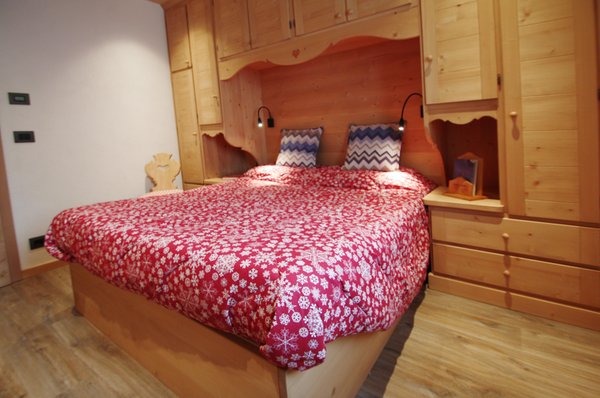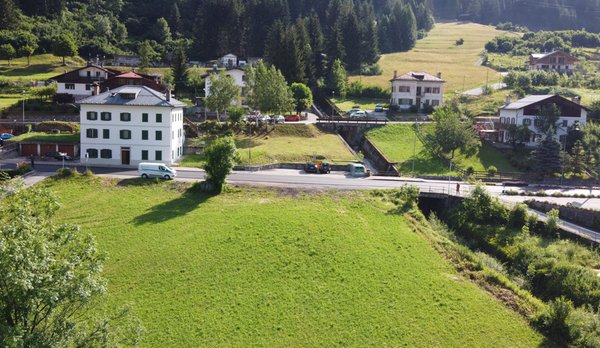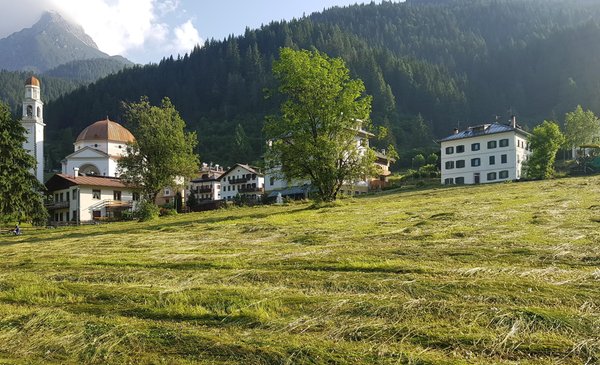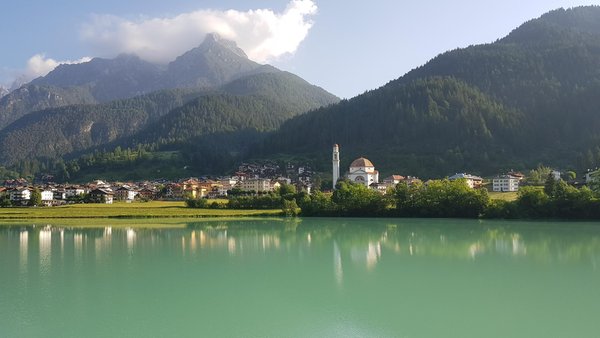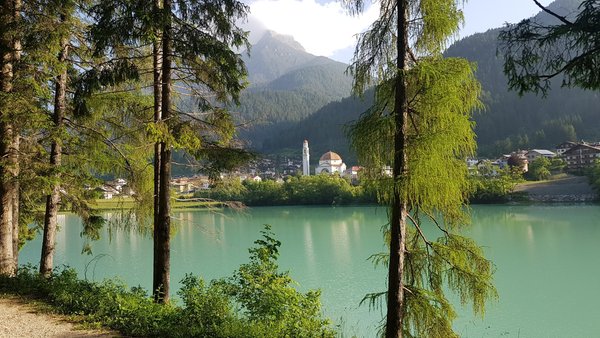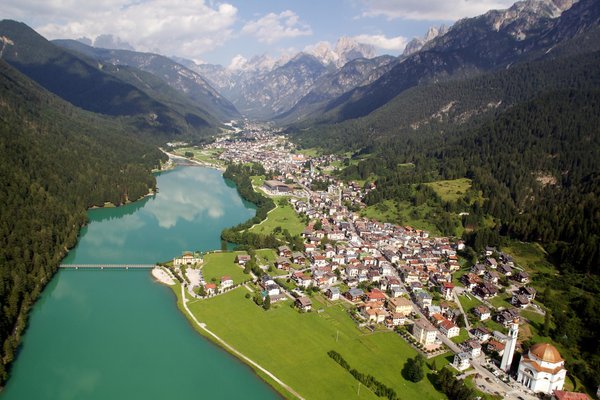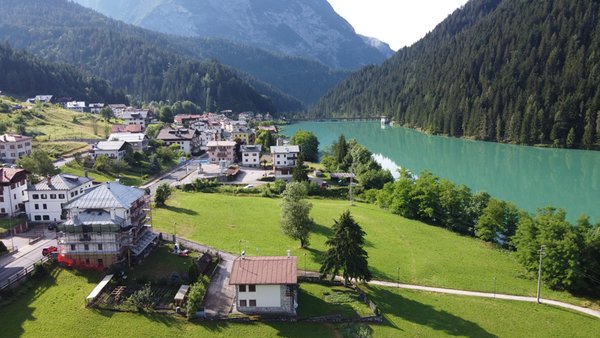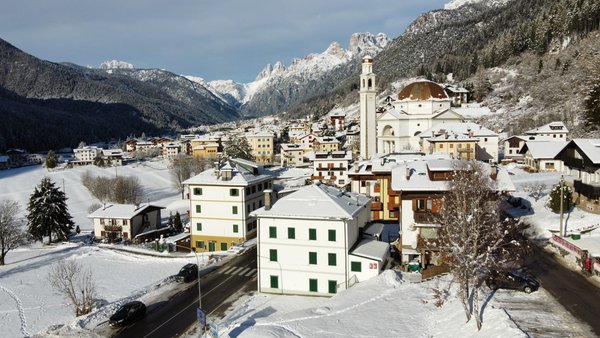 The Il Bivacco flat is named after the reconstruction project for the Bivacco Fanton at Forcella Marmarole, in the heart of the Auronzo Dolomites.
The apartment, on one level, is located on the first floor. It offers you an intimate kitchen-living room equipped with all the accessories, from the comfortable seating area with a six-seater table, you can catch a glimpse of the sun shining on the Three Peaks in the morning.
A single, very large room has a double bed set in a bridge wardrobe with a lowered ceiling, while in the space opposite, the carpenter has created a wooden structure that reproduces the experience of sleeping in a bivouac: a cosy alcove with a vault, entirely clad in wood, where you can rest or have your children or friends sleep with you.
The bathroom with shower has a sink carved out of the rock.
You can conveniently leave your car in the private car park outside the house.
La Casa Grande is a building constructed in 1883. In the complete renovation of 2021, the style of the old building was maintained in the common parts, while the rooms were completely redesigned with contemporary lines.
The single-level accommodation is located on the ground floor, with no access stairs.
The apartment offers you an intimate kitchen-living room equipped with all accessories, and from the comfortable seating area you can catch a glimpse of the sun shining on the Three Peaks of Lavaredo in the morning.
The only room has a double bed set in a bridge wardrobe with a lowered ceiling. It is also possible to make use of a third standard bed, which is always ready in a foldaway wardrobe.
The bathroom with shower has a sink carved into the rock.
The house, located along the main road, overlooks a large lawn facing the lake at the beginning of the village, and is right at the beginning of the cycle path that gives access to the lakeside promenades and has a great view of the Three Peaks of Lavaredo.
You don't have to worry about towels, blankets and sheets or anything else you might need for cooking, washing or drying clothes, which is part of the accommodation's equipment, and you can make use of the Wi-Fi connection.

Licence / identification code: Z00132; Z00267
| | |
| --- | --- |
| General information | at 850m a.s.l., 80m from the bus stop |
| Facilities | open parking space |
| In room/apt. | smart TV, hairdryer, dish washer, washing machine, drying rack |
| Further services for apartments | bed linen and towels |
| Internet | Wi-Fi gratis in room/apartment |
| Children | family-friendly accommodation |
| Pets | not allowed |
| Payment methods | no card payment accepted |
| Bike | locked bicycle storage, equipped area for bike wash |
| Ski | nearest slopes at 5km, closest cross-country trails at 13km |
| Flexible Booking | it is possible to cancel a reservation without penalty: check the cancellation conditions of the accommodation facility |
Deals and last minute offers

31 May - 05 Jun 2023 at least 3 nights
Romantic holidays (without children)
Deal: Ponte del 2 giugno
description in Italian
250€
for 3 nights
per apartament
overnight stay
Details
Availability and approximate prices
Check availability and see prices
true

1 x Apartment Il Bivacco

https://images.yesalps.com/hp/1172990/1947958_zona-giorno.jpg

SP

{"S": 4, "M": 6, "B": 0, "N": false}

45 m2

[{"id": "SNG", "qta": 2}, {"id": "MTR", "qta": 1}, {"id": "DVLM", "qta": 1}]

80€ per apartment

[{"id": "camera", "letti": [{"id": "SNG", "qta": 2}, {"id": "MTR", "qta": 1}], "kitchenette": false}, {"id": "zonagiorno", "letti": [{"id": "DVLM", "qta": 1}], "kitchenette": true}]

bathroom (with WC, shower, bidet)

Apartment with living area with fully equipped kitchen, dining table with seating for 6 and double sofa bed, large room divided into two parts with double bed plus two single beds (also double if desired) placed in the "bivouac". Bathroom with large shower, wc, bidet and washing machine.

[0, 1, 2]

[{"id": 1947958, "url": "https://images.yesalps.com/hp/1172990/1947958_zona-giorno.jpg", "width": 600, "height": 400}, {"id": 1947959, "url": "https://images.yesalps.com/hp/1172990/1947959_zona-giorno.jpg", "width": 600, "height": 383}, {"id": 1947957, "url": "https://images.yesalps.com/hp/1172990/1947957_cucina.jpg", "width": 600, "height": 399}, {"id": 1947960, "url": "https://images.yesalps.com/hp/1172990/1947960_cucina.jpg", "width": 600, "height": 398}, {"id": 1557169, "url": "https://images.yesalps.com/hp/1172990/1557169_camera-ilbivacco.jpg", "width": 436, "height": 400}, {"id": 1557171, "url": "https://images.yesalps.com/hp/1172990/1557171_camera-ilbivacco.jpg", "width": 600, "height": 338}, {"id": 1557173, "url": "https://images.yesalps.com/hp/1172990/1557173_camera-ilbivacco.jpg", "width": 225, "height": 400}, {"id": 1945100, "url": "https://images.yesalps.com/hp/1172990/1945100_camera-ilbivacco.jpg", "width": 600, "height": 400}, {"id": 1945114, "url": "https://images.yesalps.com/hp/1172990/1945114_camera-ilbivacco.jpg", "width": 600, "height": 400}, {"id": 1945134, "url": "https://images.yesalps.com/hp/1172990/1945134_camera-ilbivacco.jpg", "width": 600, "height": 397}, {"id": 1945148, "url": "https://images.yesalps.com/hp/1172990/1945148_camera-ilbivacco.jpg", "width": 600, "height": 398}, {"id": 1945181, "url": "https://images.yesalps.com/hp/1172990/1945181_camera-ilbivacco.jpg", "width": 600, "height": 381}, {"id": 1945210, "url": "https://images.yesalps.com/hp/1172990/1945210_bagno.jpg", "width": 600, "height": 400}, {"id": 1945224, "url": "https://images.yesalps.com/hp/1172990/1945224_bagno.jpg", "width": 600, "height": 398}, {"id": 1947961, "url": "https://images.yesalps.com/hp/1172990/1947961_bagno.jpg", "width": 600, "height": 396}]

true

1 x Casa sul Lago (Apartment)

https://images.yesalps.com/hp/1172990/1700770_zona-giorno.jpg

SP

{"S": 2, "M": 5, "B": 0, "N": false}

40 m2

[{"id": "SNG", "qta": 1}, {"id": "MTR", "qta": 1}, {"id": "DVLM", "qta": 1}]

70€ per apartment

[{"id": "camera", "letti": [{"id": "SNG", "qta": 1}, {"id": "MTR", "qta": 1}], "kitchenette": false}, {"id": "zonagiorno", "letti": [{"id": "DVLM", "qta": 1}], "kitchenette": true}]

bathroom (with WC, shower)

Living area consisting of double sofa bed, table with seating for 6, bedroom with double bed + third bed, corridor, bathroom. Room with sink, clothesline and ski boot storage available. Free Wi-Fi and TV in living room and bedroom.

[0, 1, 2]

[{"id": 1700770, "url": "https://images.yesalps.com/hp/1172990/1700770_zona-giorno.jpg", "width": 225, "height": 400}, {"id": 1558723, "url": "https://images.yesalps.com/hp/1172990/1558723_cucina.jpg", "width": 600, "height": 338}, {"id": 1948088, "url": "https://images.yesalps.com/hp/1172990/1948088_cucina.jpg", "width": 600, "height": 359}, {"id": 1948066, "url": "https://images.yesalps.com/hp/1172990/1948066_zona-giorno.jpg", "width": 600, "height": 397}, {"id": 1948104, "url": "https://images.yesalps.com/hp/1172990/1948104_zona-giorno.jpg", "width": 600, "height": 388}, {"id": 1947976, "url": "https://images.yesalps.com/hp/1172990/1947976_cucina.jpg", "width": 600, "height": 359}, {"id": 1945291, "url": "https://images.yesalps.com/hp/1172990/1945291_camera-ilbivacco.jpg", "width": 600, "height": 338}, {"id": 1947992, "url": "https://images.yesalps.com/hp/1172990/1947992_camera-ilbivacco.jpg", "width": 600, "height": 399}, {"id": 1948014, "url": "https://images.yesalps.com/hp/1172990/1948014_camera-ilbivacco.jpg", "width": 600, "height": 399}, {"id": 1945250, "url": "https://images.yesalps.com/hp/1172990/1945250_zona-giorno.jpg", "width": 600, "height": 385}, {"id": 1945262, "url": "https://images.yesalps.com/hp/1172990/1945262_bagno.jpg", "width": 600, "height": 384}, {"id": 1945278, "url": "https://images.yesalps.com/hp/1172990/1945278_bagno.jpg", "width": 600, "height": 384}, {"id": 1948028, "url": "https://images.yesalps.com/hp/1172990/1948028_bagno.jpg", "width": 600, "height": 398}, {"id": 1948044, "url": "https://images.yesalps.com/hp/1172990/1948044_bagno.jpg", "width": 600, "height": 400}, {"id": 1945318, "url": "https://images.yesalps.com/hp/1172990/1945318_dettagli-ilbivacco.jpg", "width": 600, "height": 338}]
Availability and approximate prices
The availability and the prices are entered and updated by the accommodation they refer to. As these data are subject to continuous changes, the definitive availability and price must be agreed directly with each accommodation. The minimum and maximum prices can take into consideration only the most common services and conditions of the accommodation; in case of different solutions the prices may differ from the specified range. The indicated prices may not take into consideration several factors, therefore the final price and the details must be agreed directly with each lodging facility. The indicated prices may not include possible costs for final cleaning service or tourist taxes.
Other rooms

:

Available treatments

:

Description

:
Price summary
| from | until | per apartment per night |
| --- | --- | --- |
| 25 May 2023 | 17 December 2023 | from 70€ |
Conditions for children and extra beds
the prices are quoted per person per night
age

*

for existing beds
for extra beds
from 0 to 3 years
15€
15€
from 4 to 6 years
15€
20€
from 7 to 10 years
-
20€
adult
-
22€
*completed age on the check-out date
Reviews
recommended by 1 guest
Map
Apartments Il Bivacco e La Casa sul Lago
Loc. Villapiccola - Via Cella, 7
Auronzo di Cadore (Auronzo and Misurina)
GPS coordinates
lat: 46.5443° N lon: 12.4590° E
lat: 46° 32' 39.7'' N lon: 12° 27' 32.6'' E
Information about the location: at 850m a.s.l., 80m from the bus stop, nearest slopes at 5km, closest cross-country trails at 13km.