hotels and apartments
sport and leisure
localities
information
9.7
Apartment Cà Agnel
Caterina Majoni
Cortina d'Ampezzo - Zuel - Via Zuel, 72


Telephone: (+39) 34213325... (+39) 3421332521
caterina.majoni@gmail.com
Apartment - Offered treatments: SC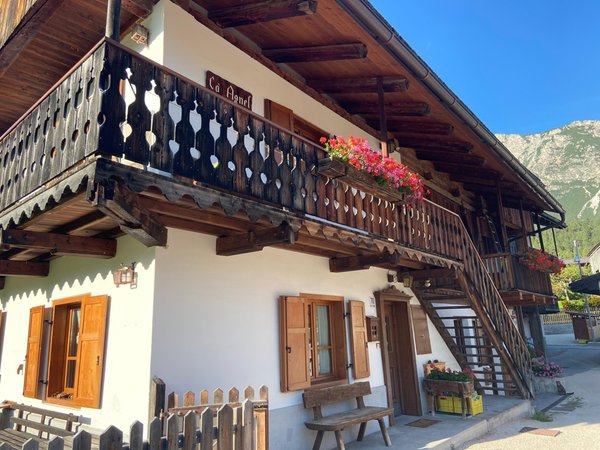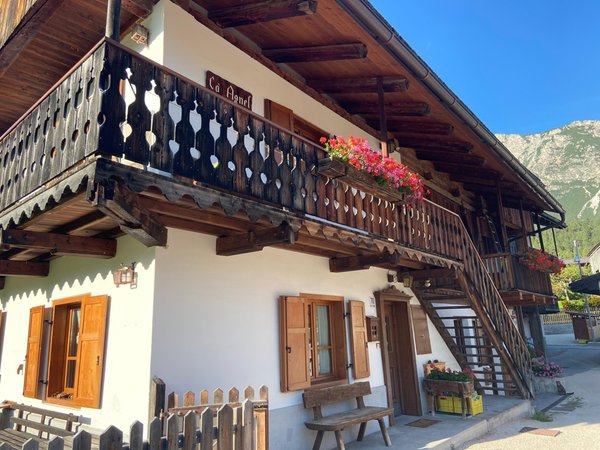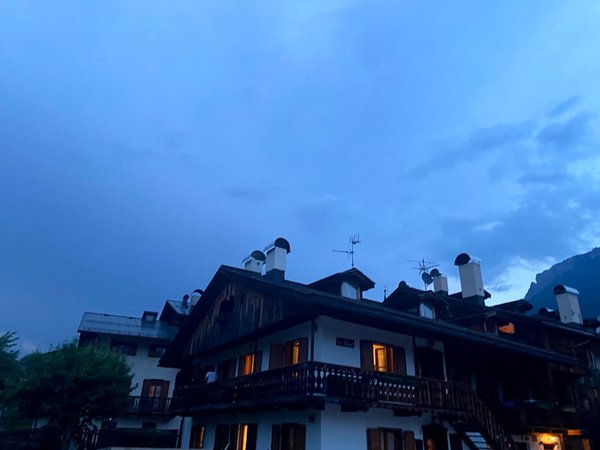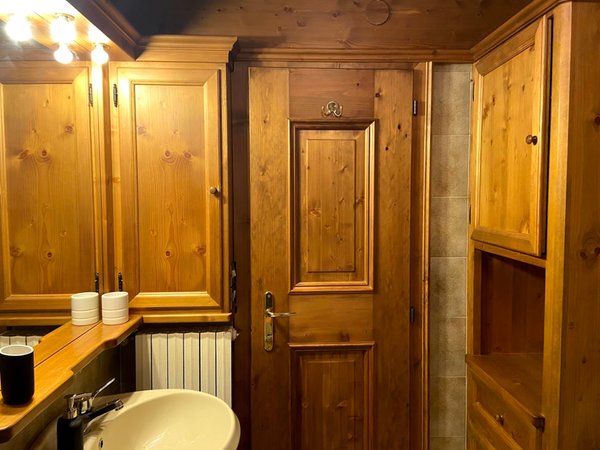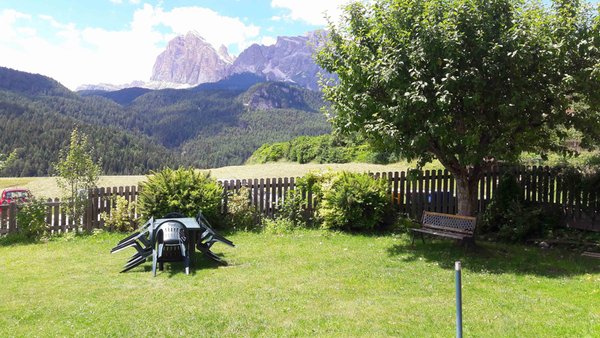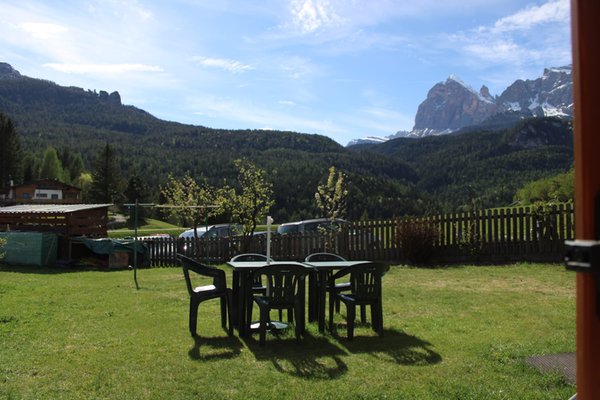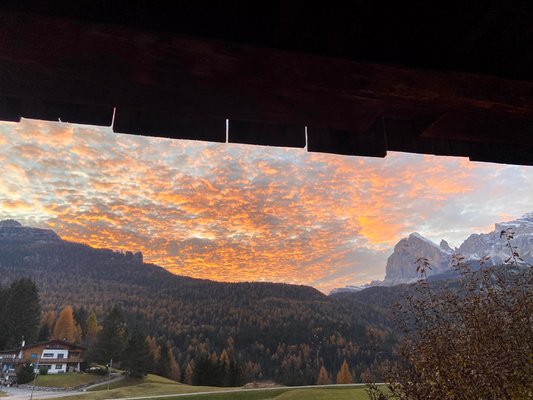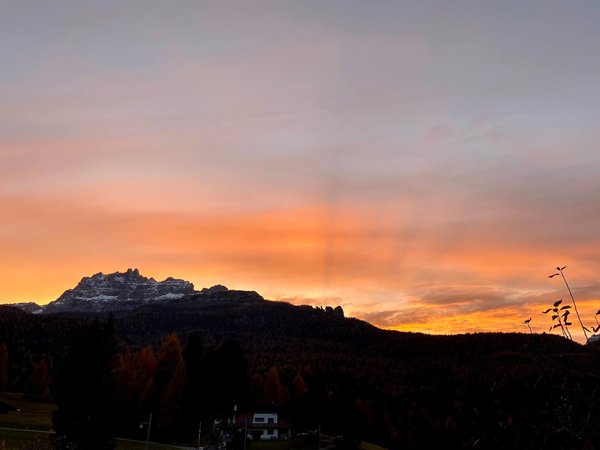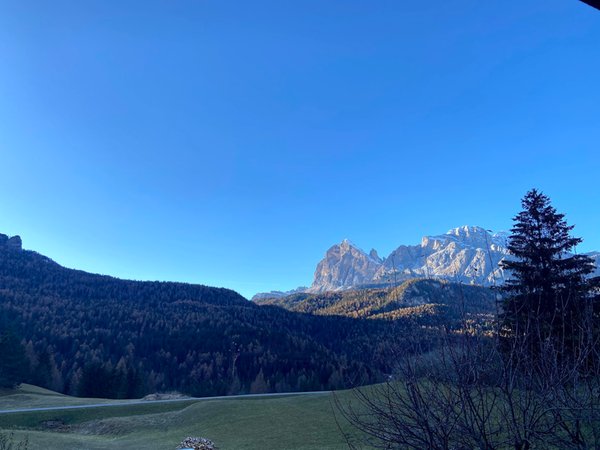 The apartment is located in Zuel di Sopra, on the first floor of a typical house of the area, and is furnished in warm and cosy mountain style.
From the long balcony, which the rooms, the kitchen and the living room face, you can enjoy a wonderful view of the surrounding mountain panorama.
The apartment has an independent entrance, external parking space and equipped garten.
100 metres from the house you can find the bus stop and the Long Way of the Dolomites.
The accommodation features two double rooms (one with separable beds) with TV; two bathrooms with window, one with bathtub and the other with shower and washing machine; living room with TV, table for 6 persons and bench, typical wood stove and sofa bed; kitchen equipped with electric oven, microwave, dishwasher, fridge and freezer, citrus juicer and kettle; corridor with spacious wardrobe and shoe rack. Guests have at their disposal free wifi, central heating and hot water with gas boiler.
Small pets are welcome.

Licence / identification code: IP0250160981
| | |
| --- | --- |
| General information | at 1224m a.s.l., 50m from the bus stop |
| Facilities | open parking space, garden at guests' disposal |
| In room/apt. | TV with satellite reception, hairdryer, dish washer, washing machine, drying rack |
| Further services for apartments | seasonal letting, bed linen and towels, shared washing machine, outdoor and indoor shared drying rack |
| Internet | Wi-Fi gratis in room/apartment |
| Children | family-friendly accommodation |
| Pets | small pets allowed |
| Payment methods | no card payment accepted |
| Ski | nearest slopes at 6km, closest cross-country trails at 6km |
| Bonus Vacanze | information for Italian citizens: "Bonus vacanze" not usable |
Availability and approximate prices
Check availability and see prices
1 x Apartment

https://images.yesalps.com/hp/994068/349830_zona-giorno.jpg

SP

{"S": 4, "M": 5, "B": 0, "N": false}

75 m2

[{"id": "MTR", "qta": 2}, {"id": "DVLS", "qta": 1}]

[{"id": "camera", "index": 1, "letti": [{"id": "MTR", "qta": 1}], "kitchenette": false}, {"id": "camera", "index": 2, "letti": [{"id": "MTR", "qta": 1}], "kitchenette": false}, {"id": "zonagiorno", "letti": [{"id": "DVLS", "qta": 1}], "kitchenette": false}]

kitchen, 2 bathrooms (WC, shower, bidet - WC, bath tub, bidet)

Apartment featuring two bedrooms, two bathrooms, living room with sofa bed and balcony which the bedrooms, the kitchen and the living room overlook.

[0, 1, 2]

[{"id": 349830, "url": "https://images.yesalps.com/hp/994068/349830_zona-giorno.jpg", "width": 600, "height": 337}, {"id": 421565, "url": "https://images.yesalps.com/hp/994068/421565_zona-giorno.jpg", "width": 300, "height": 400}, {"id": 358154, "url": "https://images.yesalps.com/hp/994068/358154_cucina.jpg", "width": 337, "height": 450}, {"id": 358150, "url": "https://images.yesalps.com/hp/994068/358150_camera-caagnel.jpg", "width": 600, "height": 450}, {"id": 358151, "url": "https://images.yesalps.com/hp/994068/358151_camera-caagnel.jpg", "width": 600, "height": 450}, {"id": 358153, "url": "https://images.yesalps.com/hp/994068/358153_camera-caagnel.jpg", "width": 337, "height": 450}, {"id": 358158, "url": "https://images.yesalps.com/hp/994068/358158_camera-caagnel.jpg", "width": 600, "height": 450}, {"id": 358159, "url": "https://images.yesalps.com/hp/994068/358159_camera-caagnel.jpg", "width": 600, "height": 450}, {"id": 425718, "url": "https://images.yesalps.com/hp/994068/425718_camera-caagnel.jpg", "width": 300, "height": 400}, {"id": 358156, "url": "https://images.yesalps.com/hp/994068/358156_bagno.jpg", "width": 600, "height": 450}, {"id": 358157, "url": "https://images.yesalps.com/hp/994068/358157_bagno.jpg", "width": 600, "height": 450}, {"id": 358163, "url": "https://images.yesalps.com/hp/994068/358163_bagno.jpg", "width": 253, "height": 450}, {"id": 358147, "url": "https://images.yesalps.com/hp/994068/358147_balcone.jpg", "width": 337, "height": 450}, {"id": 358162, "url": "https://images.yesalps.com/hp/994068/358162_dettagli-caagnel.jpg", "width": 337, "height": 450}, {"id": 358167, "url": "https://images.yesalps.com/hp/994068/358167_dettagli-caagnel.jpg", "width": 338, "height": 450}, {"id": 358169, "url": "https://images.yesalps.com/hp/994068/358169_dettagli-caagnel.jpg", "width": 600, "height": 450}, {"id": 358171, "url": "https://images.yesalps.com/hp/994068/358171_dettagli-caagnel.jpg", "width": 338, "height": 450}]
Availability and approximate prices
The availability and the prices are entered and updated by the accommodation they refer to. As these data are subject to continuous changes, the definitive availability and price must be agreed directly with each accommodation. The minimum and maximum prices can take into consideration only the most common services and conditions of the accommodation; in case of different solutions the prices may differ from the specified range. The indicated prices may not take into consideration several factors, therefore the final price and the details must be agreed directly with each lodging facility. The indicated prices may not include possible costs for final cleaning service or tourist taxes.
Other rooms

:

Available treatments

:

Description

:
Reviews
recommended by 3 guests
Map
Apartment Cà Agnel
Via Zuel, 72
Cortina d'Ampezzo - Zuel
GPS coordinates
lat: 46.5147° N lon: 12.1441° E
lat: 46° 30' 53.2'' N lon: 12° 8' 38.9'' E
Information about the location: at 1224m a.s.l., 50m from the bus stop, nearest slopes at 6km, closest cross-country trails at 6km.